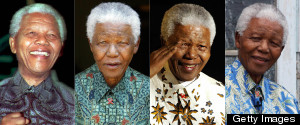 Setelah kabar kematian Paul Walker, kembali seorang tokoh terkenal dunia, NELSON MANDELA, meninggal dunia di usia 95 tahun. Tokoh apertheid yang pernah mendekam selama 27 tahun di penjara ini meninggal di Johannesburg, Afrika Selatan.
South African President Jacob Zuma confirmed the news:
"He is now resting. He is now at peace," Zuma said. "Our nation has lost its greatest son. Our people have lost a father."