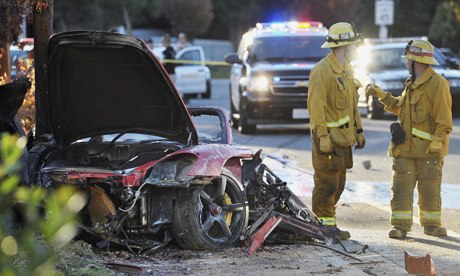 Yah begitulah yang bisa kita katakan atas kabar mengejutkan mengenai kematian tragis bintang Fast and Furious Paul Walker. Ia akan mendatangi acara amal untuk para korban topan haiyan di Philipina tapi naas saat sedang menumpang mobil temannya. Mobil yang ditumpanginya menabrak sebuah tiang listik dan terbakar. nyawanya tak dapat diselamtkan.
Photos released from the crash scene show both street light and tree collapsed, alongside a completely wrecked vehicle, which was evidently engulfed in flames following the accident. Antonio Holmes, a friend of Walker and of the driver, who he called "Roger", was nearby and ran to the crash site in a futile attempt to try and extinquish the blaze.
"We all ran around and jumped in cars and grabbed fire extinguishers and immediately went to the vehicle. It was engulfed in flames. There was nothing. They were trapped. Employees, friends of the shop. We tried. We tried. We went through fire extinguishers," he
told the Santa Clarita Signal
.(
The Guardian).
Semoga ia beristirahat dengan tenang.
Paul's co-star Vin Diesel was quick to show his support by posting a photo of the two on Instagram.
"Brother I will miss you very much. I am absolutely speechless. Heaven has gained a new Angel. Rest in Peace," wrote Vin. The pair had started filming for the seventh
Fast & Furious
movie in September, due to be released in 2014.
Paul's other co-stars past and present, including Ludacris, Jessica Alba and Tyrese Gibson, were quick to follow suit and wrote messages online.
Universal Pictures has also released a statement showing their condolences for Paul's family.
"All of us at Universal are heartbroken," it said. "Paul was truly one of the most beloved and respected members of our studio family for 14 years, and this loss is devastating to us, to everyone involved with the Fast & Furious films, and to countless fans.
"We send our deepest and most sincere condolences to Paul's family."(
Hello Magazine)